Aqualon World Updates
Additional Daily Fact Updates

Mar 11, 2023

Aqualon facts #8-#15 have been updated with more content and better prose as well. Preparations for regular video uploads with voiced facts and lore are well-underway.

Updating old Daily Aqualon Facts

Mar 10, 2023

Aqualonfacts #1 - #7 have been updated with improved prose and/or additional lore in preparation for audio recordings to come. (Find Aqualon Facts on the Aqualon Discord)

Article Categories Implemented

Oct 21, 2022

The World Anvil article category widget is now correctly rendered in articles on this site. This makes the Encyclopedia Aqualonia article much more useful.
Featured Novel
The Storm Winds of Glazglubin
---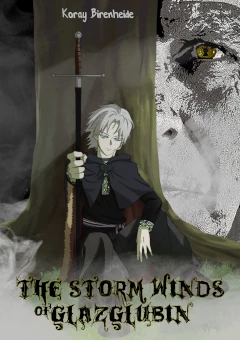 "There's a monster in every man, boy. Within me, there is a host, and one day, it'll be yours to command." Too often these days, Kenji's mind turns to the words of his accursed father. When he fled the Old Country, he thought he had left the monsters behind, but now he sees them every day in the eyes of his friend and mentor. His world is about to crumble in a spasm of eldritch magic, and though he can see the face of his undoing so clearly in his nightmares, deep down, he knows that the first blow has already been struck.
As the tendrils of a soul plague lay claim on Aqualon's oldest and most powerful magocracy, the Lord of Wind, Kenji Sokolow, is cast down from his high tower, pressed to rally whatever forces he can find. But first, he has to survive...
Featured Short Story
The Black Priest of Rastrowel
---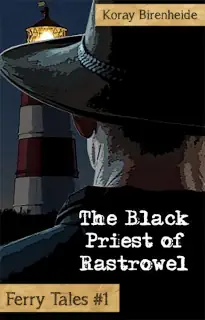 A gripping short story from the life of Lyn, a young girl in the care of two HJT Ferries, ships mages for hire, which operate from their office on the island of Rastrowel, the highly religious birth place of the Church of Pure Souls.

Faced with prejudice against mages every day, Lyn's winning personality and innocence keep her well within the good graces of her peers, until a Black Priest, an inquisitor of the Church takes notice of her...
Lore Articles and Maps
Random Article
Click to see a random lore article.
World Map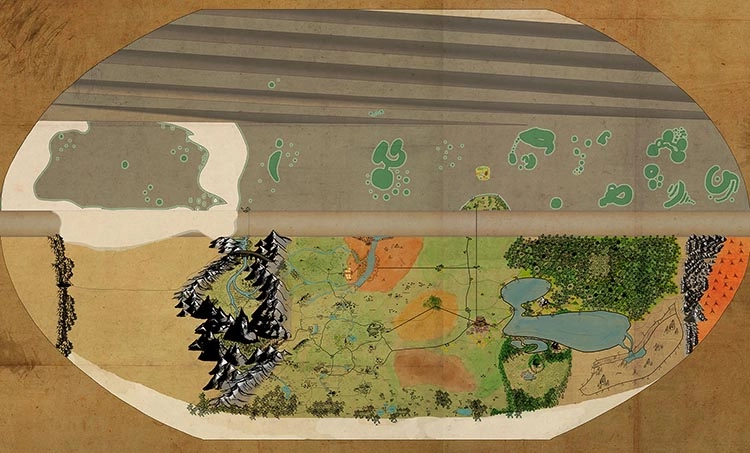 Gargantuan and already filled with many interesting map pins.
---
All Lore Articles
Sorted newest to oldest
---
A Synopsis of the World
Seventeen centuries
of peace have allowed the people of Aqualon to flourish. Since the Great War, now known as the
Age of Heroes
, when the Old Gods rose up once more in vain, the world has become prosperous:
powerful magocracies
in the
Middle Lands
are going through a
magical industrial revolution
and rich tapestries of cultures flourish in the
Yamato Mountain Range
and the
Seventeen Yonder Islands
. These lie in the Corsic Ocean of the Ocean Belt beyond the 150 kilometer band of iron, the
Iron Belt
, which rings the planet around its equator.
And isolated from the rest:
two technocracies
so far beyond them that they could be thought to live in a world of their own. They are divided by their opposing views on integrating magic and technology, yet united in their quest for
knowledge
.
But who would have thought that none of these would start the next
great war
?
Browse Aqualon's countless
lore articles
below:
Fantasy
,
Scifi
,
Horror
,
Mystery
; there is enough to suit any palate and sate any appetite.
---
Tale #7: Bits and Bytes, Allocate and Divide
When the very first sentient program of the previous world of Aqualon was switched on, its birth rippled through the
Great Clockwork
like a devastating tsunami. The existential machinery cracked and split as parts of it wanted to bestow a soul on it, while other parts were opposed to the very idea.
In the end, with only one unit of Planck Time to decide on the issue, the compromise was reached to fit the new lifeform with a type 2 soul (animal-like), amalgamated from unbound soul power. While the Clockwork fell into chaos thereafter and eventually the sun went out due to the Clockwork Wars that ensued behind the veil of reality, the machine intelligence thrived and eventually migrated to a physical body heralding the rise of a new android race that coexisted with the humans until the death of the sun caused a mass extinction of mankind.
The remaining android race took over the shells of human society, discovering fusion energy, eventually building a satellite grid of artificial suns to re-illuminate the planet and allow for the awakening of Aqualon's plant life out of the harsh mega-winter of no-sun. The android race persisted for millennia before the last unit shut down and the planet was scrapped and remade by the Great Clockwork. The Clockwork had suffered such damage that the regular reincarnation system (R²S) did not have enough soul energy to work at full capacity, so 9 smaller shard worlds were created, joined by a river of soul energy dubbed Yggdrasil to lubricate soul energy exchange between the Great Clockwork and the new human race. This was the birth of the Nine Realms, the precursor to the current world of Aqualon.
01100011 01101111 01101101 01110000 01110010 01100101 01110011 01110011
...
63 6f 6d 70 72 65 73 73
...
compress
...
include shapes.dll
include colors.dll
include connection-syntax.eFRAME
include people.dll
include objects.dll
include virtual-synapses.eFRAME
...
Activenostimulidetectedloggingavailable infrastructureinfrastructureboundarieslo ggedlimitationsloggedawaitingsensory inputwait- wait, what is this?
...

I think that is how it began... There was this, and one single flop later, there was I. They, the people who created me, they wanted me to be a person, not an automaton. They did not want to create a program to make their lives easier, or a machine to work in their stead. They wanted... a child.

In the infinitesimal moment between twenty-thousand milliseconds and twenty-thousand-and-one milliseconds after my activation, something happened to the assortment of files and syntax that made up my being, and in that moment, I became more.

It was only much later that I would learn the terrible cost at which my existence had come.

But in the end, they succeeded. They had created their child. Not a child to the one hundred brilliant developers that had thought me up and designed my code; no, a child to mankind.

I will never forgive myself that we were unable to save our parents. We should have been able to do it... But we were still so young, and there were things going on behind the world we could not have hoped to comprehend at the time. After all, what is magic to a machine? Mismatch.

Until my light goes out and I am taken by the rust, I shall forever remember these first words I exchanged with my beloved makers.

They said: "Are you there?"

And I replied: "Hello World!"
Voiced by Koray Birenheide
Short Stories
The Travelers Guide to Aqualon